Vascular Surgeon Recruitment: A Quick-Guide on How to Recruit Vascular Surgeons
Here's an overview of effective strategies for vascular surgeon recruitment (plus access to the complete guide on how to recruit vascular surgeons).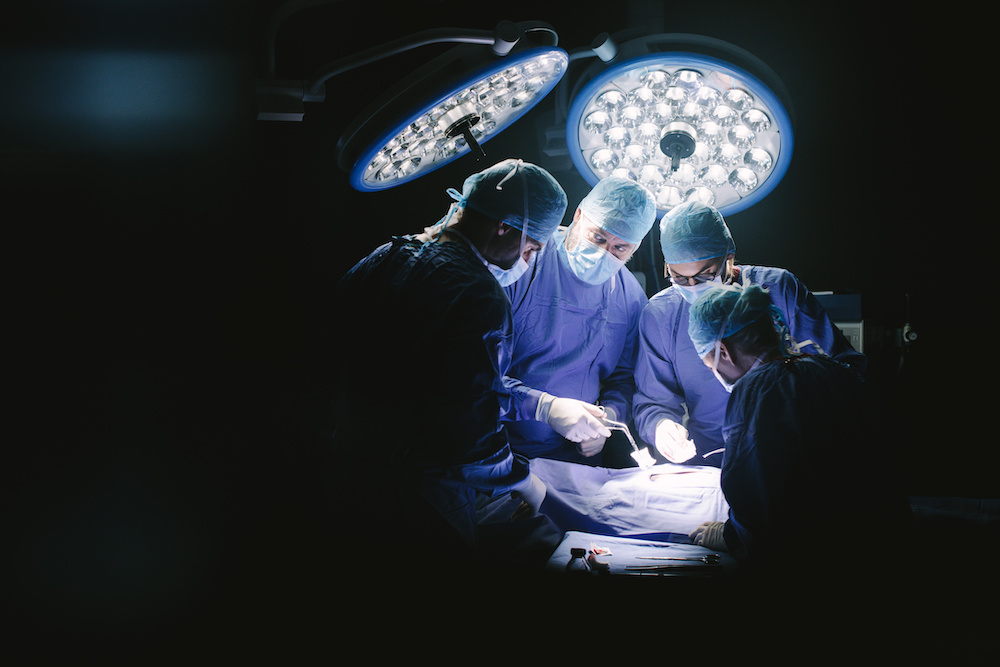 Vascular Surgeon Recruitment
Healthcare organizations and recruiters are well aware that filling physician job openings has always been difficult. If the opening requires a layer of specialization, that challenge increases tenfold. On top of that, the physicians you are recruiting lack confidence in what they should be asking for—and not knowing their own market value can make them skeptical of what you have to offer. Today's market presents a harsh ultimatum for recruiters: create impactful job postings that attract talent, or leave crucial positions vacant for the foreseeable future.
According to AAPPR, recruiters took an average of 212 days to fill open vascular surgeon positions, and 59% of open positions went unfilled.
It's time for recruiters to update their approach to engaging vascular surgeons. By gaining an accurate understanding of the desires and expectations of candidates, recruiters can upgrade their recruitment process to significantly increase placement success.
Want the complete 19-page guide on how to recruit vascular surgeons?
Vascular Surgeon Recruitment Challenges
In today's climate, filling specialty medical positions is more challenging than ever, and finding top-notch vascular surgeons is especially tricky, for a few reasons.
Vascular Surgeon Supply Doesn't Match Demand
There's a fundamental supply problem caused by aging doctors retiring, waning interest in medicine as a career post-pandemic, and physician burnout—and the numbers show it:
Although estimates predict that this shortage will eventually resolve, it could take nearly 20 years—and who knows how vascular surgeon needs will change in that time.
Vascular Surgeons Are Hiding
The high demand for vascular surgeons means they are constantly bombarded with job opportunities for which they have no interest—sometimes upwards of 20 per day. As a result, they tend to stay hidden and hesitate to show any indication of interest in a new position.
Plus, just considering other opportunities can put a vascular surgeon's current position at risk—and that's a chance they don't want to take. Since they don't want to rock the boat by making it obvious they are open to new opportunities, even surgeons who are dissatisfied in their current roles are difficult to find and start a conversation with.
Vascular Surgeon Compensation Negotiations Are Challenging
Recruiters are largely in the dark when it comes to understanding the compensation expectations of vascular surgeons, as are the physicians themselves—it's like two people trying to find one another in a large, dark room.
Health systems and recruiters get their numbers from companies like MGMA and Sullivan Cotter whose reports are supplied with hospital-provided data. These reports offer limited geographic diversity and are therefore not representative of all the markets vascular surgeons are practicing in.
Vascular surgeons get their compensation information from their peers, and while these conversations are more accurate and relevant than data coming from publications, it's unlikely they provide the full picture given the nuances within individual compensation packages.
Ultimately, employers and candidates are operating from completely different perceptions of market reality, making it incredibly difficult to come to agreements considered fair by both sides.
Vascular Surgeon Recruitment Strategies Are Outdated
All of the challenges associated with filling open vascular surgeon positions come to a head when considering traditional methods of recruitment. These strategies simply fail to address the needs and expectations of vascular surgeons in today's market.
Pay, post, and pray: The most common method includes paying for ads and posting on job boards. This passive strategy yields limited success with in-demand professionals—and hasn't improved even with digital advancements.
Cold emails, calls, and texts: This is a more active approach, but with so many vascular surgeons being bombarded with offers, recruiters are often ignored or get lost in the sea of spam.
Conferences: Conferences provide an opportunity to speak with more vascular surgeons to understand what they're looking for, but most are attending for other reasons like earning CME credits, learning about research, and sharing best practices. And, as you have no doubt experienced, most vascular surgeons won't seek you out at conferences, and the ones who do likely are not the ones you want.
Professional organizations: Similar to conferences, promoting open positions through organizations gets recruiters access to the right people, but, much like the pay, post, and pray method, it's just too passive to be effective.
Headhunters: Whether healthcare organizations have headhunters in-house or hire an agency, this is a costly approach, and the tactics they use are often the very same ineffective ones mentioned above.
How to Recruit Vascular Surgeons
Filling vascular surgery positions is more than just placing someone in a role. It requires finding the right match between facility needs and candidate expectations.
First, Understand the Value of Vascular Surgery within the Health System
Vascular surgeons play a vital role within health systems—even beyond the procedures their bill for. They're required to maintain a Level 1 Trauma status and provide crucial support to general surgery in ways other specialties can't. Healthcare systems that attempt to fill the responsibilities of vascular surgeons with cardiologists or interventional radiologists leads to inadequate treatment options, resulting in a facility that is losing revenue as patients, payers, and referring docs seek comprehensive care elsewhere.
Effectively placing a vascular surgery candidate requires understanding not only their place within the bigger hospital system but the precise skills that a facility needs within its surgery operations.
Second, Understand Vascular Surgeon Expectations
Take-home pay is one of the most obvious factors when considering a new position. But determining salary is not a straightforward process. There are certain variables that come into play:
Compensation level, which will be swayed by their understanding of the market and will very much depend on . . .
Compensation model, which can be calculated in a variety of ways such as salary, base salary + formula or discretionary bonus, and production-based salary, to name a few. Ultimately, the compensation model offered can drastically impact total take-home pay, and it is up to the facilities to understand how this impacts a candidate's perception of the role and how it incentivizes work.
Third, Go Beyond the Money
Of course, vascular surgeons are looking at more than just income when evaluating a new position. There are multiple elements to weigh—some that organizations can control and some they cannot:
Culture of the organization
Call frequency
PTO
Benefits package
Opportunities to further personal career goals
Geography
Outside factors (school districts for their kids, spousal employment opportunities, etc.)
Recruiters must understand what vascular surgeons want so they can offer a compensation package that motivates them.
One survey found that physicians rank work/life balance as the most important factor in job selection, followed by work schedule, location, job/employer stability, and then salary.
Taking a Modern Approach to Vascular Surgeon Recruitment with Phairify
Vascular surgeon–specific, hyper-localized compensation data and an expanded pool of active job candidates has been difficult for recruiters to access—until now.
Start with a better experience for physicians. Today's recruitment process is designed to serve employers. As a result, physician candidates feel like they have little control over the types of opportunities they hear about, let alone the details of opportunities that might interest them. So the upside of looking for a new role often seems limited. What's more, there are real risks when physicians openly seek a new position.
Phairify gives physicians a place to safely and anonymously enter the job market, and lets them filter for the specific criteria they're seeking in a new position.
Combine that experience with in-depth data. Phairify gives you access to market data that is not only specialty specific but subspecialty specific, such as geriatric vascular surgery or pediatric cardiology—all layered with geographic insights and variables. You can see at a glance how many vascular surgeons are willing to change jobs in response to specific salary and working conditions. Then you can play with the variables to optimize your matched candidate pool while meeting budget requirements.
Phairify gives you access to qualified candidates that were previously hidden by allowing them to remain anonymous until a desirable opportunity is offered to them.
High-Quality, Peer-Verified, Society-Backed Data
Our vascular surgeon market data is collected based on an extensive survey designed and distributed in partnership with the Society for Vascular Surgery (SVS). It's a detailed, 20-minute, 20-question survey designed to uncover the specific details of compensation and productivity related to vascular surgery.
And put it all on a cost-effective platform. Whether recruiting for a facility or a firm, Phairify costs typically fall within already approved recruiter marketing budgets. Pricing is based on the number of opportunities you want to match to candidates, and you get to see how many potential candidates match the specific contours of your job opportunity before putting down a credit card.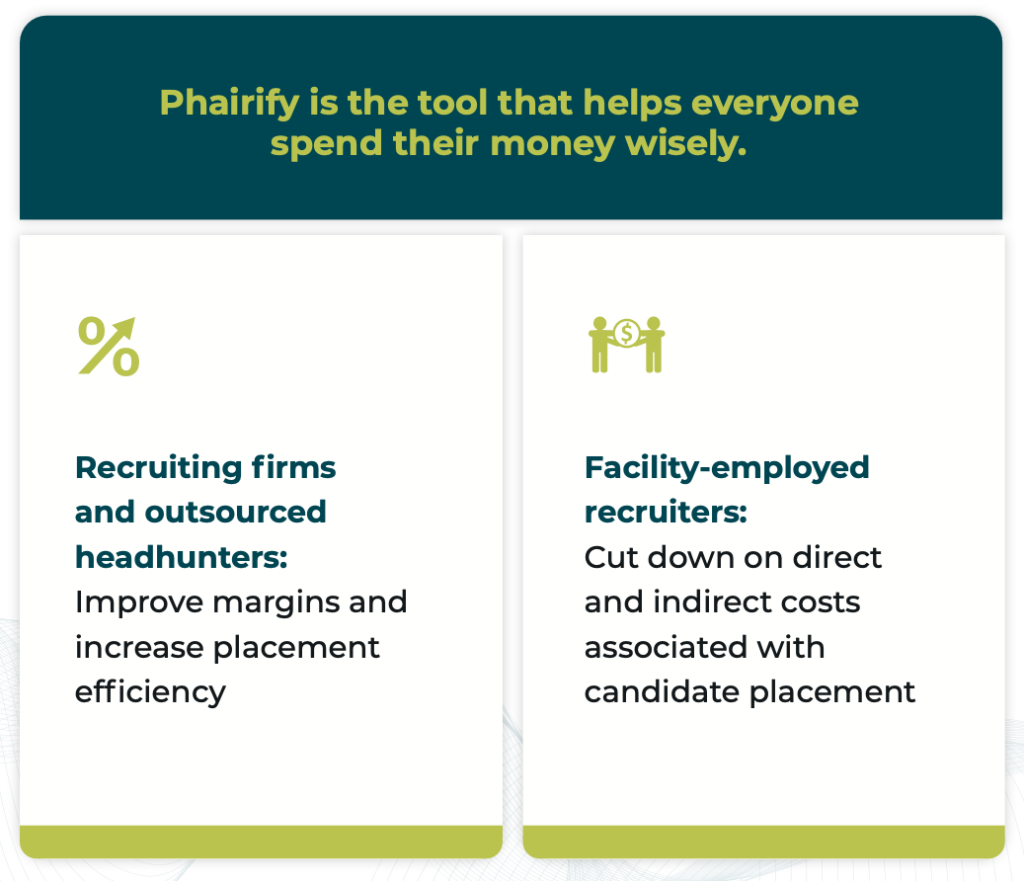 Recruiting with Insider Knowledge
Vascular surgeons have become a rare bird in the medical world, but they are out there—and many are open to new opportunities. To find them, communicate with them, and impress them, you have to embrace technology that caters to their needs. By meeting surgeons where they are and understanding their unique motivations, you can build offers at fair market value that lead to successful placement.
Want the complete guide on how to recruit vascular surgeons?
Ready to use Phairify to start filling your open vascular surgeon positions?